Management
MgA. Eva Lorenc, Ph.D.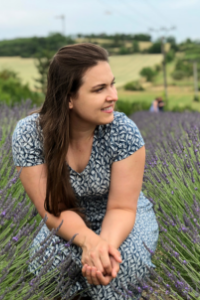 Eva Lorenc is the founder and current owner of our piano school and its responsible manager. Eva takes care of teaching our students and makes sure all teaching runs smoothly throughout the school. She also accepts new students and teachers into the school, builds and shapes the vision of the school. Eva strives to create a piano-learning environment that is joyful, stimulating, entertaining, and at the same time providing the highest possible quality of piano lessons by the school's teachers.
Štěpán Lorenc, MSc.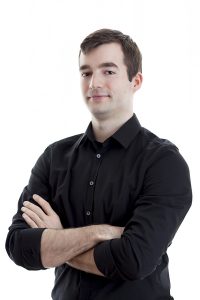 Štěpán Lorenc takes care of the management and technical background of our school. Štěpán communicates with our clients via email and telephone, helps with the organization of teaching and our events, takes care of administration. He is also the administrator of our beautiful website.
Teachers
MgA. Eva Lorenc, Ph.D.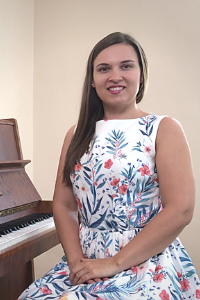 Eva is the founder and head of our piano school. She graduated from the Conservatory in Pardubice and the Academy of Performing Arts in Prague in major Piano playing and interpretation. After that she also finished her doctoral studies at the Faculty of Education, Charles University, with focus on piano teaching in her doctoral thesis. Playing the piano is her lifelong passion, mission and vocation. She is devoted to teaching young children, young people and adults with great enthusiasm and joy. Eva is also the author of a successful Czech piano blog and author of several e-books and online courses that help people solve various piano-related problems. Her projects help people all over the country and abroad. Her e-book Methodology of Elementary Piano Teaching for 5-7 Years Children was nominated for the Ministry of Education Award in 2019.
MgA. Klára Štěpánová Králíčková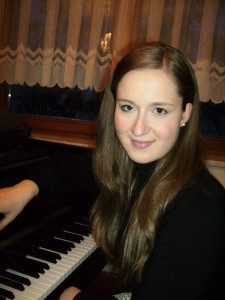 Klára studied at the Academy of Performing Arts in Prague in the piano class of prof. Frantisek Maly. She is a very successful soloist, and laureate of many piano competitions. In 2014 Klára was awarded the prize for the best interpretation of pieces by contemporary composers. She taught at Master Class in Philadelphia and New York, USA, which were organized by Appel Farm Arts & Music Center. Klára enjoys teaching the piano and has been teaching in our school since 1 September 2015. Klára is also on YouTube, you can listen to her in this video! Currently, Klára enjoys her family on maternity leave.
MgA. Adam Stráňavský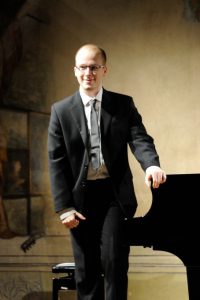 Adam studied piano play at the Conservatoire Jána Levoslava Bellu in Banska Bystrica in the piano class of Mgr. Aleš Solárik and at the Academy of Performing Arts in Prague in the piano class of a famous Czech pianist Boris Krajny. Adam won several times the title of the laureate of piano competitions such as Competition of Students of the Slovakian Consevatoires, Forum per tasti, International piano competition Beyond Music-Huesca. He performed in Slovakia, Czech rep., France, Spain, Poland and USA. Adam pursues teaching and charity work by playing in beneficial concerts.
BcA. Vsevolod Tokmakov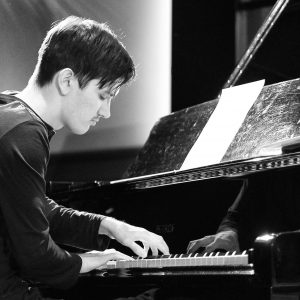 Vsevolod comes from St. Petersburg. He is not only an excellent pianist, but also a composer. Vsevolod started his music education at the age of 4. When he was 10, he won the 1st prize at the International composer competition in St. Petersburg. At the age of 15 he moved to the Czech Republic. He ended up 7th at the renowned International Prague Spring Piano competition. He also won 3rd prize at the Competition of Czech Conservatoires and many other prizes at different piano competitions. Vsevolod teaches piano and musical theory. He plays at cafes and events, where he mostly improvises jazz. He loves the work of Alexander Skrjabin and his dream is to finish his epochal but unfinished work Mysterium. Since 2018 he studies the piano at the Academy of Performing Arts in Prague in the piano class of Prof. Malý.
MgA. Evgenia Vorobyeva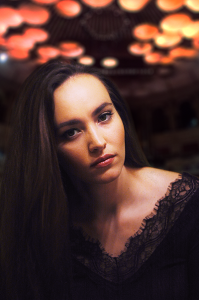 Evgenia began playing the piano at the age of five. She received her secondary music education at the State Conservatory in Saratov named after L. V. Sobinov in Russia in the class of prof. Alexander Rykel, pupil of S.S. Bendic, taught by G. Nejgauz. During her studies she has participated in a number of national and international competitions, she is the finalist of the M. Judinova competition in St. Petersburg. Evgenia concluded her studies at the Academy of Performing Arts in Prague, under the direction of MgA. Kvitoslava Bilinska. She has collaborated with a number of prominent musicians, including, for example, Marina Shaguch, Marian Theater's soloist in St. Petersburg, or Dagmar Peckova. She plays a lot of chamber music and regularly plays with the winner of Bohuslav Martinů Foundation Competition, violoncellist Aneta Šudáková, and also in a trio with the violinist Mark Blaha. Evgenia teaches both children and adults.
BcA. Sára Suchánková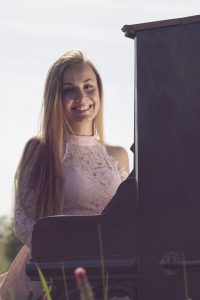 Sára Suchánková is an outstanding young pianist who was admitted to the prestigious Academy of Performing Arts in Prague in January 2019. Sára began playing the piano at the age of 5 under the leadership of Russian teacher Regina Goslinská and continued her studies at the Conservatory in Pardubice in the class of an excellent Czech teacher and pianist Martina Maixnerová. During her studies she collected a number of awards and laureates at various Czech and international piano competitions, and also performed with leading Czech orchestras such as the Pardubice Philharmonic Orchestra. Sára is enthusiastic about teaching piano. In recent years she has been teaching piano in the famous children's choir Boni Pueri in Hradec Králové.
BA. Giora Kukui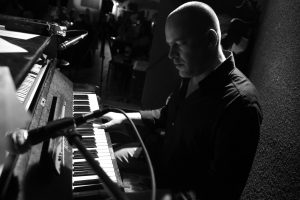 After finishing his studies at the Rimon School of Jazz and Contemporary Music in Ramat Hasharon, Israel, Giora completed his musical education at The Jerusalem Academy of Music and Dance. He has been teaching music for over ten years.
Mgr. Vartan Agopian, Ph.D.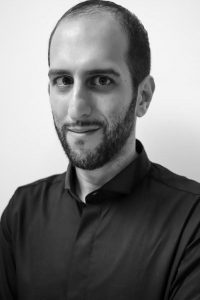 Vartan Agopian comes from Lebanon, where he graduated from the Lebanese National Conservatory of Music in Beirut, and also from Haigazian University, where he focused on psychology. He then studied music education and piano at the Faculty of Education in Charles University in Prague, where he earned his doctorate. He is an acclaimed composer in his native country, collaborating, for example, with the famous Lebanese singer Carla Chamoun, for whom he also composes songs. He is also the author of the Concerto for Piano and String Orchestra in G minor, which he premiered himself. He also performs with his wife, who is a violinist and together they raise a little daughter. Since 2022, Vartain is an accompanist to the Czech boys' choir Boni Pueri. Vartan teaches piano in English at our school and focuses on intermediate to very advanced students.
Gleb Korotkiy, DiS.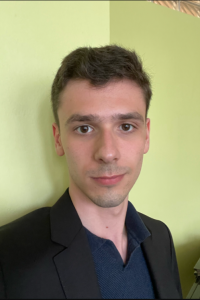 Gleb Korotkiy was born in Moscow and started playing the piano at the age of four. He has been living in the Czech Republic since he was 7 years old, where he graduated from elementary art school. Since 2004 he studied at the conservatory in Pilsen with Professor Maxim Averkiev, where he graduated in 2021. He is preparing to study piano at the Academy of Performing Arts in Prague and is also a student at the Metropolitan University in Prague. In addition to playing the piano, he has experience in journalism as an editor-in-chief in a Russian online newspaper. Gleb joined Piano School Prague in July 2021. He is fluent in Czech, Russian and English.
Bc. Amálie Pivoňková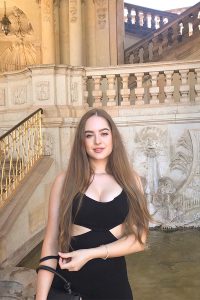 Amálie Pivoňková studied piano at the elementary art school in Klášterec nad Ohří and in Most. After graduating from high school in Klášterec nad Ohří, she joined the Conservatory in Teplice, majoring in piano with Mgr. Hana Turková. She graduated from the conservatory in 2021. She is currently studying piano at Charles University, Faculty of Education. Since September 2021, she has also been studying piano at the Academy of Performing Arts in Prague. Amálie has been teaching piano since 2017, teaching children and adults of all levels.
Petr Falkenauer, DiS.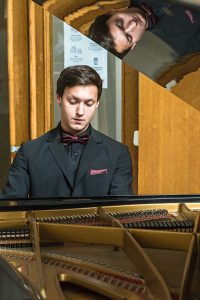 Petr Falkenauer comes from Všeruby near Pilsen. He graduated from a church grammar school in Pilsen and already during his studies he entered the Conservatory in Pilsen, majoring in piano in the class of MgA. Věra Müllerová. He is currently studying piano at the Academy of Performing Arts in Prague with Doc. František Malý. Petr completed piano courses in Dinant, Belgium and in 2019 he participated in the international chamber music competition, where he placed in a great 2nd place. Petr gained his teaching experience at art schools in Kralovice and Pilsen. Petr teaches children and adults of all levels.
Mgr. Natália Lukáčová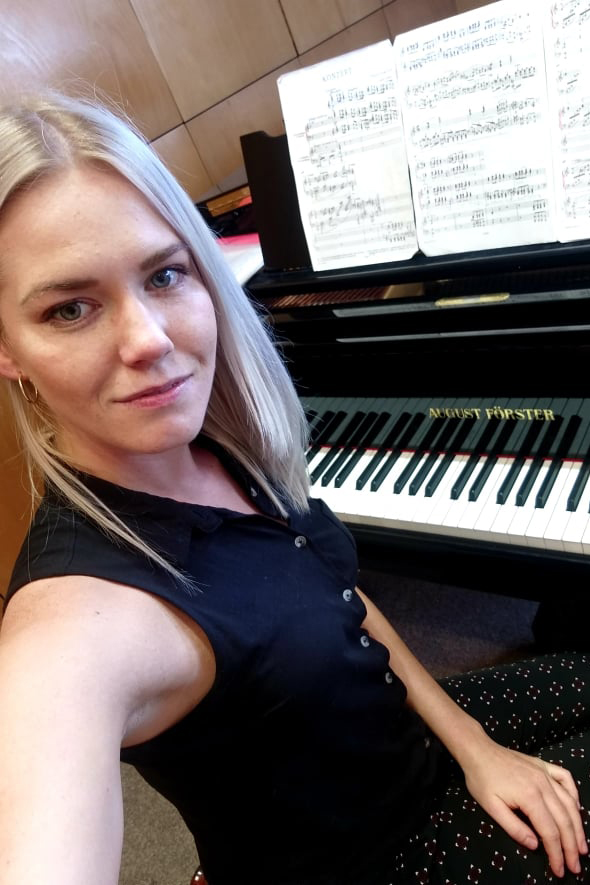 Natália Lukáčová graduated from the Faculty of Education at Charles University in the field of Piano Play and Music Education. During her studies, she practiced at art schools and also at the Prague music grammar school. She also taught piano and music education in kindergarten. During her studies, Natália had piano recitals and was an accompanist. Natália is also a member of the UK orchestra, where she plays. Natália is well equipped with two foreign languages, Italian and English. At the same time, she wants to constantly develop and move forward both in pedagogy and in piano playing.